EXCELLENCE IS OUR ATTITUDE
From the early stages of design-development to the final closeout documents, Anton Cabinetry works in close connection with our clients to ensure their objectives for the project are fulfilled. We are committed to delivering excellent services and products, no matter what the project is.

Anton Cabinetry is committed to delivering high quality products created through the skilled craftsmanship of our experienced staff.
EXTENSIVE INDUSTRY EXPERIENCE
We opened our doors over forty years ago and have constantly adapted to changes in the industry and technology. We value our team members' knowledge, ideas, innovation and ability to anticipate the needs of our clients. Working in theater, corporate, medical, fine arts, and more has offered us a unique opportunity bring problem solving ideas to each of our projects to benefit our clients.

Without our clients, we would not be here! We listen to the needs of each individual project and look for superior solutions to provide exactly what they are looking for.

Anton strives to provide our clients with the most innovative possible
solution to their products.
Anton Cabinetry will rise to meet a challenge using our experience and expert craftsmanship. We invest in technology, equipment, and programs to continuously improve what we build and how we build it. We have the tools, technology and expertise to do just about anything our clients ask of us.
OUR STORY
For more than four decades, Anton Cabinetry has delivered high quality products created through the skilled craftsmanship of our
experienced staff. Anton works closely with architects, designers and general contractors to create unique and functional environments for commercial, retail, education and professional clients. Anton Cabinetry's goal with every project is to deliver a final product built to specification, on time and on budget. It is through proven systematic processes that coincide with our commitment to quality and our attention to detail that sets us apart as an award-winning leader in our industry.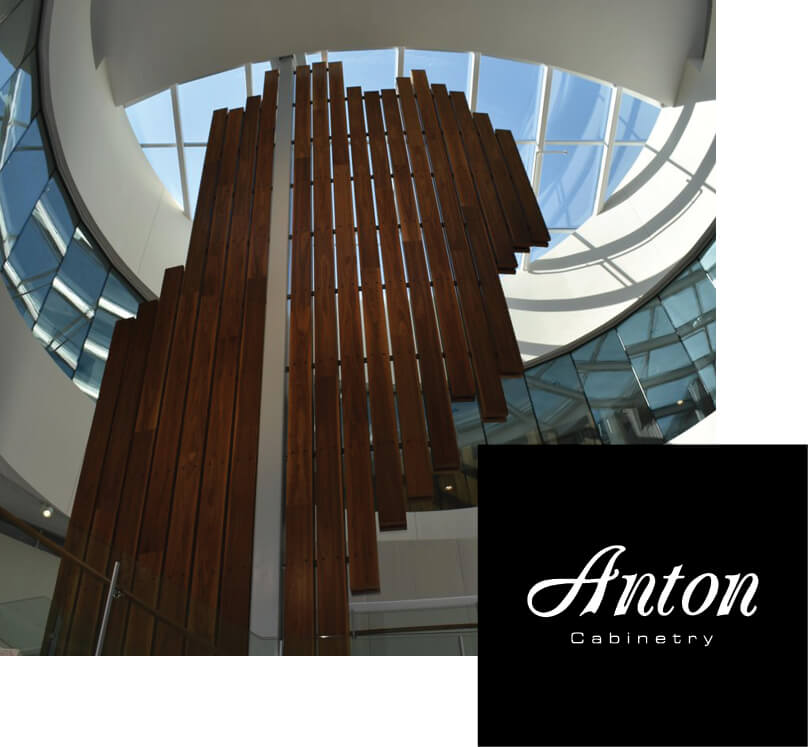 A NEW PERSPECTIVE TO THE INDUSTRY
Anton Cabinetry was founded in 1974 as a sole proprietorship by John Anton under the name Southwest Custom Cabinets. John's purpose in launching this company was to bring to market custom designed and exceptional quality architectural woodwork to the industry, initially for the residential home builder of Texas. John gained great expertise working several years in the cabinet and millwork industry.
We started in a 500 sq. ft. metal building with basic equipment on a site 2 miles from our current location. Business began to grow slowly at first, yet as the quality and design of our cabinetry impressed several home builder contractors, business steadily increased enough to move to a larger location.
Upgraded Space and Technology
In 1976 we moved to our present location, occupying 2,400 sq. ft. With more space we were able to upgrade to new equipment and refine several aspects of production. The expansion and growth brought new team members, several of whom are still with us today. In 1980 we incorporated and continued to grow our customer base and began to research expansion into diverse commercial markets.
A Personal Commitment to Excellence and Quality
In 1988 we again expanded our facility to accommodate our sales staff, drafting department, accounting and, most importantly, our clients. We believe in working closely with our customers and in being responsive to their needs. Our personal commitment to excellence and quality in product and design earned us an exceptional reputation in the industry and among our client base. In 1989 Southwest Custom Cabinets became Anton Cabinetry. We were so sure of our product we put our name on it.
By the mid '90s we were producing almost exclusively commercial casework serving markets throughout the US. We continued to add to our growing client base, to include Cook Children's Hospital, Cinemark and additional theater chains like Regal Entertainment and Showbiz Cinemas.
Expansion Drives New Process Implementation
By the early 2000s Anton Cabinetry's location expanded to 65,000 sq. ft. We had also grown to be a major manufacturer of high-quality custom cabinetry, millwork, solid surface and architectural millwork for the healthcare, education, religious and entertainment markets throughout the country. As our business expanded, so did our diverse and talented work force. We wanted them and our methods to be as efficient as possible. It was then we decided to improve our procedures by implementing Lean Manufacturing, which improved our processes and lowered our costs, allowing us to be more competitive while still preserving our personal commitment to superior craftsmanship and quality in design. This also empowered us to maintain a healthy, fun and safe environment for our many team members, while also maintaining a purpose-built facility that refined our processes.
The Anton Cabinetry Difference
In 2017 Anton Cabinetry once again expanded our facilities, giving us a total of 75,000 sq. ft. We integrated new high-tech equipment to help streamline the flow of production even further. We continue to produce the highest quality architectural millwork in the industry for which we have earned our reputation over the almost 50 years we have been in business. Our mission is to continue to produce the highest quality and design of our products and execute all aspects in the most efficient and cost-effective way. With the ability to streamline our work production, we also strive to maintain an excellent work environment for our employees and continue to maintain the same personal relationship with our clients that we always have.